See Our Home
I bought a cape cod in the fall of 2011 and have been making it our home ever since. Take the tour below!
Outside:
We painted trim, shutters, and doors (x2), planted a tree in the front yard, and added porch furniture.
Backyard:
Moved a lot of plants to new homes around the yard and patio (still in progress)

Inside
Family Room:
Before:
I've painted the walls, trim, and fireplace. Still need to hang curtains and paint the back of front door, but I can't decide on a color!
Dining Room:
Before: I'm lacking pics of this room in it's original color, since I painted it and the hallways before we moved in. But it was two toned and the same as the original salmon living room color.
I painted, changed the chandelier, and got a bigger rug. I still need curtains which will hopefully be the same as the living room's.
Kitchen:
I painted the trim white, and the door the same color as the walls.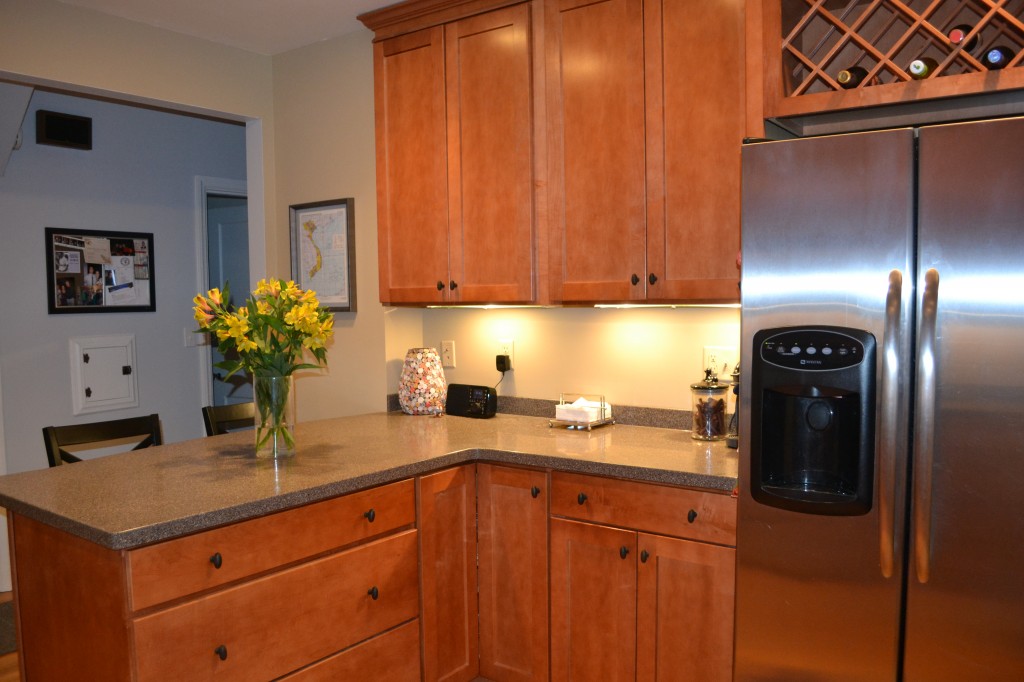 First Floor Bath:
Haven't done a thing to it, other than paint the mirror navy.
Guest bedroom:
Haven't done a thing to it except hang curtains, add art, decorate, etc.
The "Craft Room":
Before:
I painted walls, trim, bead board and doors. Since these photos I've hemmed the curtains. The arm chair belongs in the living room, though the Christmas tree was in it's place.
Master Bedroom:
Haven't done a thing.
Upstairs Bath:
Haven't done a thing.
Office:
Before:
After:
Painted the walls, added curtains and art.
Upstairs Hallway:
It got a fresh coat of paint prior to moving in, and I replaced the closet knobs.
Basement:
Before:
I painted the ceiling tiles, replaced broken doors, added light above the fooseball table, and painted everything. Boy, was that a chore!
Thanks for checking out our home. Check back for more updates!