Late last year I was sick of not being able to clean my shower. The tub had lost its top layer and was looking dirty constantly. It also had a few dents.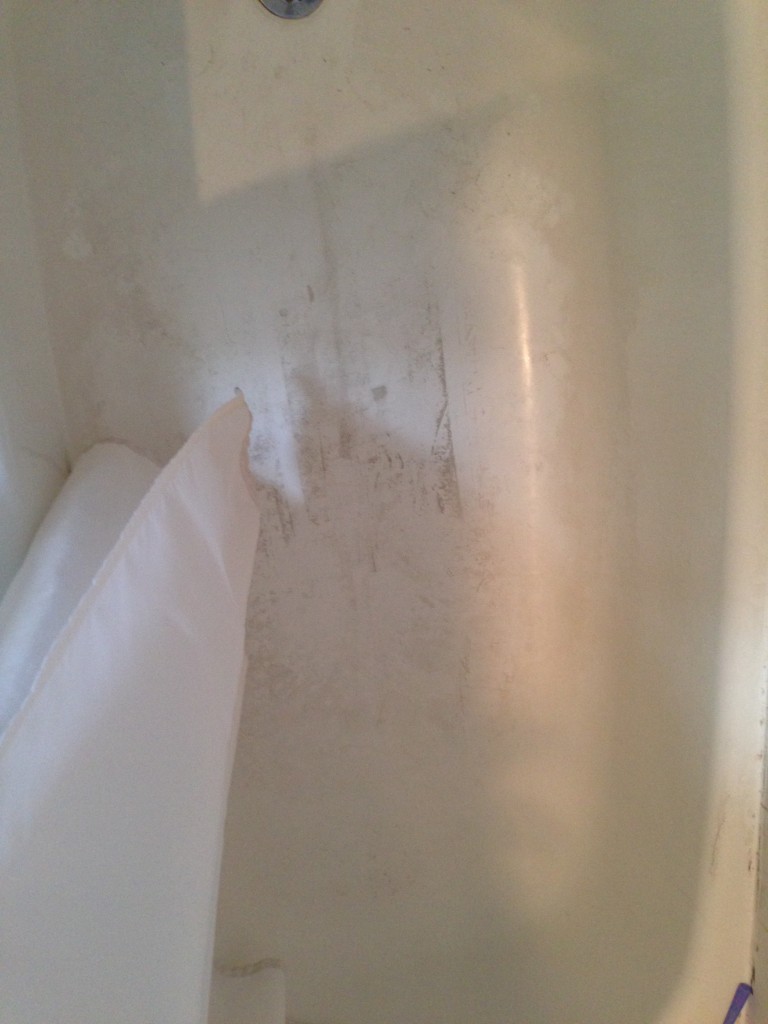 The faucets leaked at the handles. I wanted someone to replace these, and clean my shower tile well, then seal it. See the huge dent below the faucet?
There had been tile placed as the baseboards, which I thought dated the entire room. I wanted it gone and replaced with crisp white wood baseboards.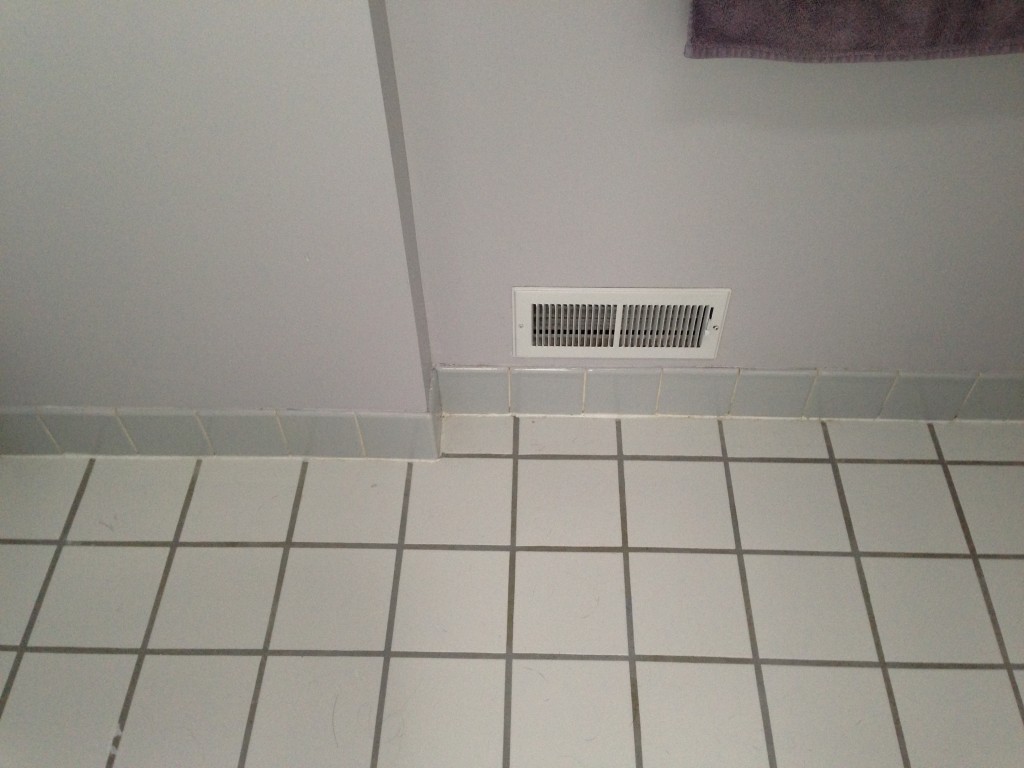 I asked for a new toilet for my birthday in September for these reasons:
That is not poop. I like clean things and none of these were helping me achieve a clean bathroom. After living this way for 2 years, I wanted them fixed.
So after having my dad remove my vanity and toilet I hired out to have a new tub placed and removal of the tile baseboards. AKA my first contractor experience. Aside from my uncle who did my roof and skylights last year.
Here's the new shiny tub
. What I didn't know was that he would need to remove some tile to insert the new tub. Enter the unexpected mess: finding matches. The tile backsides were red, same as the floor's. They don't make them that way anymore. They may have been Mexican or Spanish tiles. So to find matches to replace around the tub was a nightmare, and then basically ended. I decided over night to rip everything out and replace with new tile, instead of replacing the space with completely different tile, like an accent strip.
I went with standard white subway tiles. I thought it was classic, clean, and cheaper than something fancy.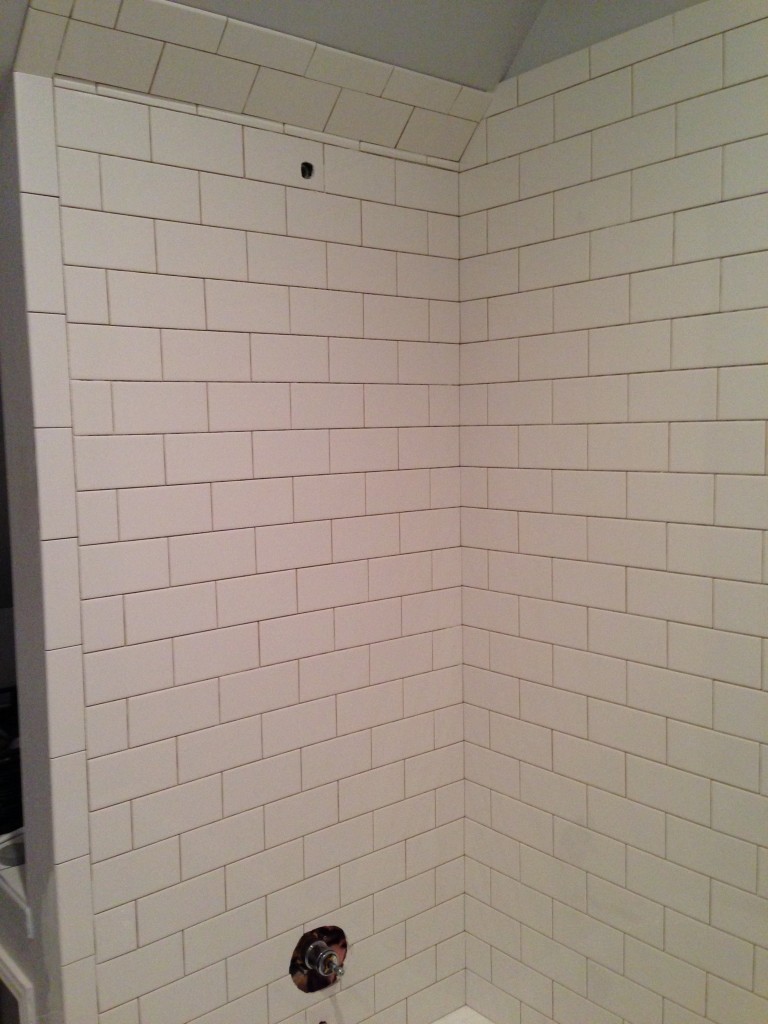 To save money, I went with chrome instead of brushed nickel. I also only opted to get one shelf for shampoo bottles, and one soap dish per #1′s request. I'm really trying to cut back the amount of "product" I use. I only wash my body about once a week, with Lever 2000 (also my #1′s). We share shampoo. Most recently we're using Dermorganics, but I also have the Honest Co. My contractor informed me that all of the pink scum that builds up in your shower is from soap and shampoo dyes. Gross. I've really been trying to watch chemicals and additives in my daily living. And by watch, I mean, rid.
The grout I chose was light grey, not sure what it was called. The contractor used a grey caulk to bead around the tub and up the corners of the walls. Sorry for the iphone pics.
My dad replaced the new toilet and put the vanity back after he cut and installed the new baseboards. I painted and caulked. Here is the after:
I'm pretty pleased. However, my wallet isn't. This cost about $2,000, not including the work my dad did or the new toilet. I was hoping to spend about $800. Surprise! Oh, the joy of owning a house.
I'm a perfectionist and notice the smallest imperfections (like a small hole in the grout that one would need a magnifying glass to see) while I'm showering almost daily. Which is why I'd like to tackle our first floor's bathroom with the help of my dad. Hey, when I fork out big bucks, I expect it to be perfect.
Who's with me?!